Starting a new blog wherever you are is no longer a hard task. Many new bloggers jump into the blogging field mostly because they are passionate about something or simply want to share their Kayak business or band website with the world.
Others just want to try something new and this is fine because it is really easy to get into as most blogs are built on the WordPress platform which is basically free. Add some content, a few pictures, a video, a couple social media plugins to give it a customized feel, and a way you go.
It wasn't quite this easy back in the day (1990's) when I personally had to secure a web hosting account locally, purchase web design tools and spend countless days just to put up the simplest of websites. A discussion for another time perhaps? I feel like this is the second or third coming of the web.. well I guess that's where Web 2.0 comes in…. or Web 3.0 if you believe that Social Media or Social Networking has taken the web hostage.
Anyway, back to what I was saying. Most bloggers still get frustrated these days and quit very soon no matter if you are putting together a Cape Breton music site or tourism site.
So I decided to share this post "Cape Breton Blogging Tips for Beginners" to help out fellow bloggers in Cape Breton or anywhere you may be across Canada as well as globally.
It doesn't matter if you haven't started a blog yet, or if you're a professional blogger or ghost blogger. Just follow some of the basic blogging tips below and it can make a big difference in in your overall blogging experience.
Plan your blog carefully before starting.
Choose your blogging market wisely; choose a niche in which you are expert and speak from experience.
Register a unique and easy to remember domain name for your blog from GoDaddy or NameCheap.
Signup with some affordable and cheap Web hosting like Hostgator.
Use WordPress, It's the best blogging platform with lots of features like free themes and plugins for SEO and Social Media.
Choose a simple fast loading theme for your blog. I recommend Elegant Themes and WooThemes for their design appeal.
Learn Search Engine Optimization (SEO) as it is important that your viewers and audience find you easily on the web.
Be authentic and don't copy from anyone else's website or blog. Always post unique content with your keywords and anchor text.
Build a strong Social Presence by adding plugins for Facebook, Twitter, Pinterest, Google+, YouTube and other social media marketing avenues to your blog to increase your online presence.
Update your blog regularly or you will lose followers. Publish something that your viewers will love and want to share on Facebook.
Start guest blogging or ghost blogging by writing guest posts on other blogs to increase your website traffic, Backlinks and exposure.
It's OK to dream big, but set goals and stick to them until all your steps are achieved.
Don't choose topics from other blogs but be original and stick to your niche and personal experiences.
Build a mailing list to grow your fan base. It is really important. Use LocalFans.netemail marketing service, it's free up to 2000 subscribers and it's cheaper than aweber.
Keep your posts simple and write for readers and not the search engines. Readers are the ones who can make your blog post go viral.
Be kind and try to solve the problems of your readers. Provide them with tips and helpful advice. A funny story with video and silly pictures never hurts. Keep it light and funny and your readership will grow quickly.
Blogging requires a lot of time and is never an over night success. Be passionate about what you write and it won't seem like work.
Don't overload your website/blog with plugins and widgets. Use a simple clutter-free minimalist theme.
Link to other Cape Breton blogs because more often, they will return the favor.
Ask the opinions of your readers. It will spark a commentary back and forth and may want others to get involved in the discussion.
Read and reply to every comment on your blog because no one wants to get left out. Keep the conversation going. It's important!
Reply to most emails that you get from blog readers. It is here that you can try to help them as much as possible. They have taken the time to write so write back.
Remember your readers are here to check out your latest post and don't want to be looking at ads or popups. Don't post too may ads.
Make your own images and don't just copy them from other websites. You can use free images on Google if they don't don't have a watermark or copyright stamp on them.
This is important. Quality of your content (articles, videos, press releases) matters, not quantity. Write the best content you can and put a lot of detail in the article with pictures and a video or two if you have them. I make my own videos all the time and put them on YouTube. Some of them have gone viral such as "Moose falls on Ice" last year. I think right now it is close to 300K hits.
Subscribe to other websites and blogs in your market or area of interest. Don't just focus on your attention and time on your blog. Interact with other blogs and when you do, don't forget to post a link back to your own blog. This builds valuable authority backlinks.
Build your following by adding funny pics, contests, recipes, etc and your readers will reward you by sharing your posts.
Don't quit blogging just because it's tough or you can't figure something out. One of my favorite sayings is.. "Google is your friend".
If you really get stumped on something and can't find it in Google, help is just around the corner. Simple post on Facebook and others will come to your aid. Also don't be afraid to ask questions, that's how most of us learn. One step ahead, never quit!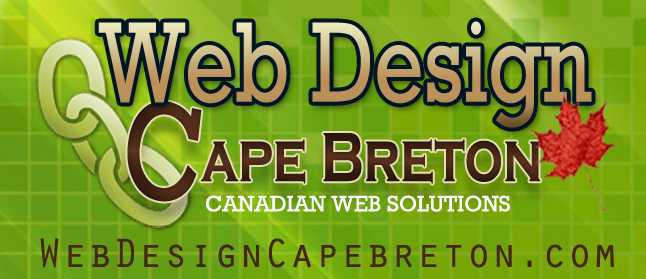 Need a little help with your next web design project or help with social marketing or SEO? Contact a web expert with over 15+ years of experience in the business at support@webdesigncapebreton.com
The web design process usually begins with a free consultation which gives us both an opportunity to share information in order to come up with a website tailored to your organizations needs. Just have a couple of questions? Feel free to contact us, and we will be more than happy to assist you.
Quotes and Questions are free 🙂
Technorati tag: YX2MMK33HB2Q