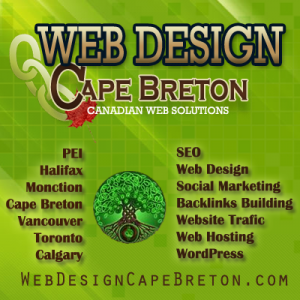 There are many services that can be offered along with traditional web development services in Cape Breton. Our key web design services that we offer at Web Design Cape Breton are professional website design, website re-design, website maintenance, CMS, WordPress Design, eCommerce web store, SEO (search engine optimization), Social Marketing Services, Web Hosting, and Domain Name Registration.
We at WebDesignCapeBreton.com provide web design services to all Maritime areas including Sydney, Nova Scotia, Cape Breton,  Halifax, PEI, Moncton, South Western Nova Scotia,  Dartmouth, Annapolis Valley, Lunenburg, Bridgewater, Shelburne, Antigonish, Truro, Kentville, New Minas, Falmouth, Yarmouth, Digby, Bridgetown, Annapolis Royal, Saint Johns, New Brunswick, Montreal, Quebec, Toronto, London, Ontario, Winnipeg, Calgary, Alberta, Vancouver, British Columbia, as well as the rest of Canada.
We develop websites for Corporate, Real Estate, Travel & Tourism, Bed and Breakfast, Music Industry, Auto Sales, Retail Sales, and Personal & Professional Blog Development.
You may also want us to create a Facebook page and fill it with 5000 facebook likes/fans. We have many social marketing services and are Social Marketing Experts. Don't be overwhelmed. Contact us first, talk to our professional team, and let us help you make a plan. If you need to bring more traffic to your website each month, we can help you get Facebook fans and Twitter Followers to boost your social media presence. We are here and open to your ideas and suggestions on how to create a custom Web Design, SEO, and Social Media campaign all in one.
Still not sure what package to choose? Shoot me a message and we'll go over your site and just what should be needed to beat the competition – Contact Us!